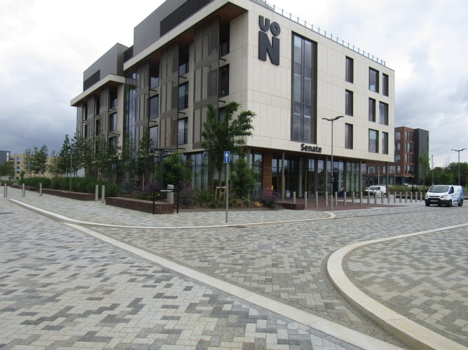 University of Northampton's new Waterside Campus mapped
The University of Northampton's new Waterside Campus may have opened in September 2018 but even by early 2019 it remains a comparative wasteland on map providers such as Google Maps.
Luckily for students, the University Estates Department was technologically savvy enough to commission mapping experts from OpenStreetMap, the free and open map of the world used by Facebook, Mapbox, and more. They had had previous experience with OpenStreetMap and so recognised the benefits of speed, accuracy, and cost in using it as an online presence.
One of the OpenStreetMap UK Directors visited the campus before it opened and over a period of 2 days plotted the locations of buildings, roads, paths, and amenities within the new campus. Using camera, notebook, and GPS, the surveyor dodged amongst the building contractors finishing the buildings and temporary offices being removed by cranes. Security staff, project managers and members of the public also added their knowledge to produce a total of 200 pages of notes and 100 GPS points. Back at base, these were then turned into details in the online map and published within minutes.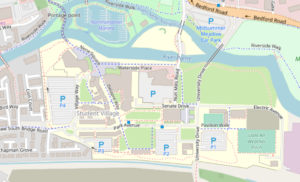 The Student Halls of Residence have been named after famous Northampton people – the most recognisable being Francis Crick, the co-discoverer of DNA and John Clare, a mystic and poet.
The University has erected many information boards showing the history of the site which still retains one listed building – an old engine shed which is now used by the Student Union. Most of the site was previously occupied by Northampton Power Station which began operation for the Northampton Electric Light and Power Company in the 1920s and generated power until closure in 1975. The power station was finally demolished in around 2015.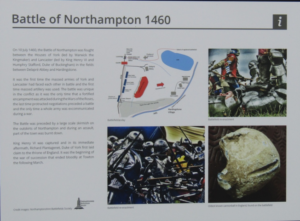 Another kind of power was being contested on the site in the 17th Century at the Battle of Northampton in the Wars of the Roses.
This is not the end of mapping for the University. As the information on OpenStreetMap is editable, the University can update it themselves when new buildings are added. The University has now produced aerial images of Waterside Campus captured by a drone.
Thanks are due to the University of Northampton Estates department for using OpenStreetMap and thereby swelling the coffers of the OSM UK chapter.