Cameras are a great way to collect photos to help add data to OpenStreetMap. You could buy your own (the TrekView specs might help) or we have a 360 degree handheld camera and a dashcam camera available to rent. The kind folks at TrekView have also confirmed that their free Trekker Loan program can be used to capture imagery for OpenStreetMap.
The following terms apply to borrow one of the OSM UK cameras. Please note that these terms do not apply to the Trekker Loan program.
Be an OSM UK member
Due to postage limitations you must live in the UK, Isle of Man, or Channel Islands.
Use for OSM activities only.
The cost of return delivery is included in the rental fee.
On receipt please check that you have all the parts (as per the itemised list in the box / on the instructions).
In the event of loss or damage we request that you contribute a minimum of £50 with more on a voluntary basis.
Late returns will incur a fee of £6, increasing by an additional £6 per week (they also cause an inconvenience for the next hirer).
LG 360 handheld camera
Gregory demonstrates the LG 360 camera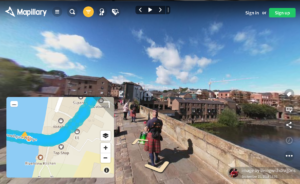 The LG 360 handheld camera has a lens on each side to capture images of the full scene around you whilst you walk (example image). It's a great way to capture a detailed scene with lots of features, such as urban environments or a hiking route where lots of paths converge.
Rental is 5 weeks for £11.10. The charge includes tracked delivery, return delivery, and a small fee to support this scheme and the work of OSM UK.
A monopole and memory card are included with the camera; all you need is a smartphone. To upload your photos to a service such as Mapillary (for later use in OpenStreetMap) you need a computer.
This camera is for handheld use only. No mounting to vehicles. Do not use it in rain/precipitation, in temperatures below 0°C or above 35°C, or during high wind.
Instructions (PDF; ODT) are included to guide you through the process.
Telenav Waylens Horizon dashcam camera
This camera attaches to your car windscreen to capture images of the road ahead. The built in GPS adds location data, and the camera pauses when you stop at a red light. Telenav have specially adapted this camera to automatically upload images to OpenStreetCam when it is connected to Wi-Fi.
Rental is 5 weeks for £27 which includes tracked delivery, return delivery, and a small fee to support this scheme and the work of OSM UK.
Everything you need is included in the box..except Wi-Fi (the faster the upload speed the better) and a vehicle to mount it to! Photos are uploaded to OpenStreetCam under the osmuk-waylens username.
Instructions (PDF) provided by Telenav and extra hints & tips (wiki) from the equivalent rental scheme in USA. To upload:
Turn on the camera with the small power button on top
Swipe your finger from the bottom of the viewfinder screen upwards to bring up the menu
Tap Wi-Fi
Tap Status. The camera will scan for networks.
Occasionally the first scan fails. If this happens, just tap Status again and it should work the second time
Select your Wi-Fi network and enter the password
a countdown displays whilst images are automatically selected and uploaded (you might want to do this overnight as it can take a while)
on a long journey you can stop and restart recording to split into manageable sections: swipe down to access the recording control screen, tap the stop button and then tap the record button to start a new track
TrekView Trekker Loan program
You can use the Trekker Loan program to borrow a backpack mounted 360-degree camera system for free. It captures images at 16.6 megapixels so is a great camera. Captured images are uploaded to Mapillary which can then be used to help edit OpenStreetMap.
Want to learn more or fancy building your own version of the Trek Pack? Check out this doc.