Show off your support for OpenStreetMap with this OpenStreetMap United Kingdom hi-vis vest. Includes the OpenStreetMap United Kingdom logo and "Surveyor" text across the back of the vest and on the left chest.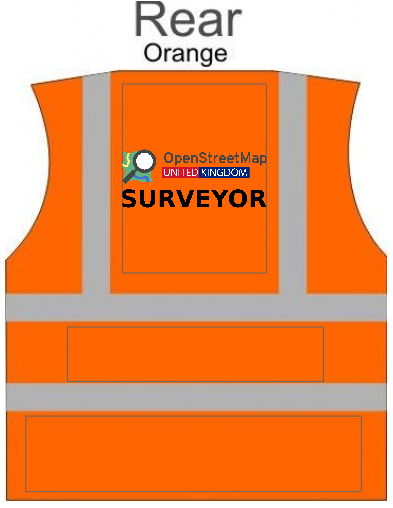 We have changed the way to order these. We now kindly ask that you follow the instructions below to order the hi-vis jacket from hivis.co.uk (Elite Industrial Suppliers Ltd). If you are struggling please feel free to contact us at info@osmuk.org and we will do our best to help.
Step 1: Download the image file
Click the button below to download the image file you need to create your own hi-vis jacket.
Step 2: Customise you own hi-vis jacket
Start your order by clicking the button below. You will then need to follow the steps set out below the button to customise the hi-vis with the image you downloaded in step 1.
Select your size, order quantity and colour. Feel free to choose whatever colour you like – we recommend orange. You do not need to add any design comments in the text box.
Click on "Upload Image" and follow the instructions to upload the image you downloaded in step 1.
Click on the uploaded image to add it to the front of the hi-vis. You will need to resize it and position it as shown in the example above.
Click on "Rear" and click the uploaded image again. This will add it full size across the back of the hi-vis.
Click "Add to Basket" and then "View or Checkout".
Double check your order by clicking on "CLICK to see design". If all is ok, proceed to payment and complete your order.
Step 3: (Optional) Tell us about your order
We'd love to hear about your hi-vis jacket. Show it off to the world by wearing it when out mapping, posting pictures on social media and/or by letting us know at info@osmuk.org.