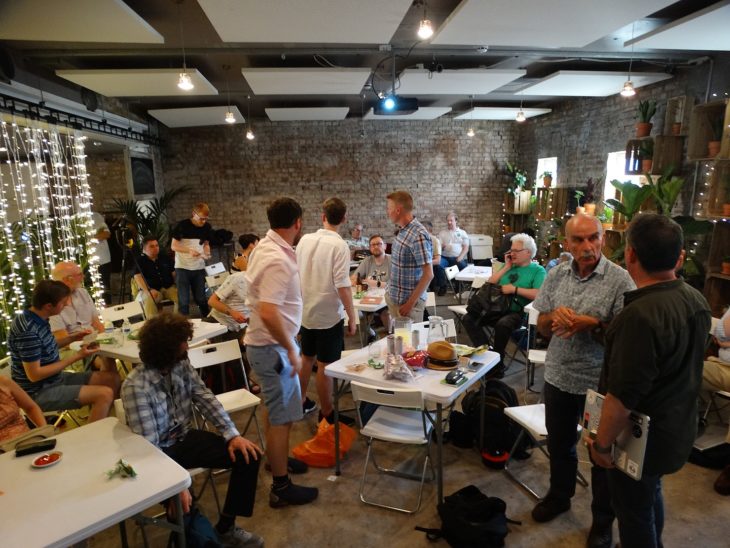 OpenStreetMappers gather in London
After another year improving and using OpenStreetMap, members and guests of the CIC met in London last month.
The afternoon kicked off with our AGM, where we thanked Brian Prangle and Gregory Marler for their service on the board. Gareth Ling and Steve Richardson were elected to fill the vacant seats. A discussion took place about the rate of our corporate members before a vote concluded that the rate will continue to be a bargain price of £50/year. We thank our corporate members for their continued support and welcome any additional organisations who wish to help the work of OSM UK.
Following the AGM, we had a selection of great speakers. Andrew Woods and Ian Dawes from the National Trust shared how and why they wanted to use OSM (slides), including a look at the tagging schema they're using to map physical and legal properties of footpaths. Rob Nickerson gave an introduction to the recent idea of 24-hour mapathons, and led a room discussion on how we could best utilise the idea together. Coming all the way from Scotland, Alison Moon of thinkWhere talked about the Fairer Falkirk Project (slides) that uses OpenStreetMap and increases access to local provisions for those in poverty.
It was getting very hot in the room on an exceptionally sunny London weekend, so we cooled off with ice lollies and a long break as people from the Wikimedia UK community joined us. Talks focussed on the crossover between OSM and Wikidata, including a lively discussion over the scope of Wikidata and what is 'notable' enough.
Finally the day was ending, and whilst some rushed off to get trains home others walked round the corner to the famous Brick Lane. As is required, some bartering took place before a restaurant tempted our group in with a well-negotiated deal. We hope you all enjoyed the afternoon if you came along, and here's to another year of mapping and using the world's best geospatial database.