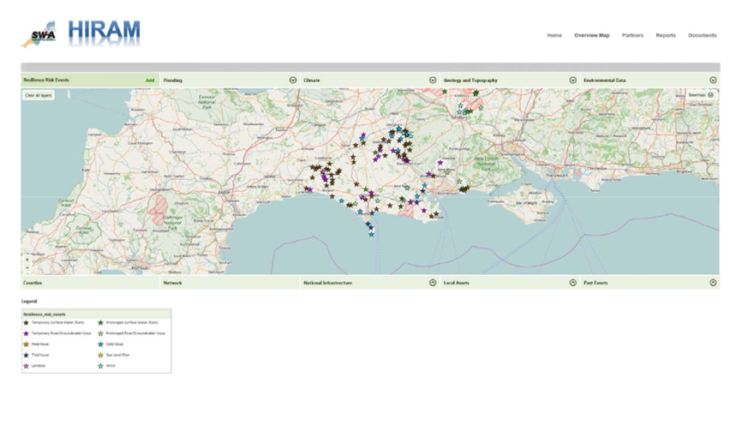 OpenStreetMap assists with Climate Change Resilience Planning
Responding to the increased frequency of weather-related road closures and the difficulty of securing government funding to mitigate the risks, a group of 14 councils organised in the South West Highways Alliance (SWHA) developed a modelling tool. The Highways Infrastructure Resilience Assessment Modelling tool (HIRAM) helps to identify and record where extreme weather risks, such as flooding and heavy winds, are most likely to cause damage and where maintenance and improvements are most needed.
Combining data from a variety of sources, including the Met Office and Environment Agency with OpenStreetMap data not only provides a visualisation of risks but also, combined with financial data, algorithms provide a detailed costing for funding submissions in a fraction of the time traditional methods take. HIRAM incorporates industry standard calculations for estimating carbon and transport costs – drawing largely on Web-based Transport Analysis Guidance – also known as WebTAG. HIRAM produces a business-case style report, showing location, all the engineering details input about the event, and results from the risks, costs and benefit calculations
HIRAM also addresses the problem of roads that cross county boundaries where there might be no point in building resilience into a road if the adjoining authority is not simultaneously building resilience into the same route across the boundary. For the 14 authorities in the SWHA this was a pressing need and without the use of freely available software and the open mapping data provided by OpenStreetMap, getting a tool built by traditional suppliers would have been very costly.
Exeter-based supplier Wilson Pym May (WPM), combining experience of highway maintenance and software development, rose to the challenge and built HIRAM using OpenStreetMap and a range of Open Source software for a small fraction of the cost expected.
"OpenStreetMap is both responsive and visually very appealing to our end users. As a global product we needed a global base-map that all our users would find visually informative whilst allowing us to overlay and model data.  Most of our users are already familiar with the look and feel of OpenStreetMap through their daily use of Android smartphone applications so it makes complete sense for us to use this data."
— Gary Wilson – Director of Wilson Pym May
Indeed, without using OpenStreetMap and these other freely available platforms, WPM reckon that over half of the Alliance's total budget would have been spent before any actual development work could have been undertaken at all. Traditional licensing would also have saddled the already cash-strapped Authorities with an unacceptable on-going cost.
The other Open Source applications which WPM have used in HIRAM include:
DNN (formerly Dot Net Nuke), the open source .net content management system
The PostgreSQL database
QGIS geographical information system and
BIRT Actuate reporting tool – at the time of implementation a separate component, but now part of Open Text
Initially the specification for the development of HIRAM was based upon using spreadsheets, because this is all the Alliance believed it could attain with its very limited budget. WPM, once awarded the development contract, was able to dissuade them from that opinion.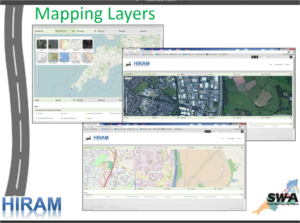 Building on experience with open source, that had been accumulating since 2012 (when WPM began developing RouteShoot – a GPS-tagged video content management system, supported by a bespoke smartphone data collection app), they were able to demonstrate that by using cloud hosting to mitigate the upfront hardware costs, and Open Source to virtually eliminate their software and data costs, they really could afford a better solution.
"I can confidently assert that open source technology can now be considered good enough and sustainable enough to deliver not just HIRAM, but a major part of all WPM business. Every product we have in the market now uses open source as the foundation."
— Adam May – Director of Wilson Pym May
HIRAM quickly proved its worth with South Gloucestershire and Bristol authorities jointly using HIRAM's business-case reports as the foundation for a funding bid, securing £3.35m from the Department for Transport's Flood Resilience Challenge Fund.
News of success travels fast and several other authorities are now using HIRAM for their highways resilience planning and the user-base has nearly doubled.
South Gloucestershire Council, on behalf of the Southwest Highways Alliance (SWHA), went on to win the Association for Public Service Excellence Innovation Awards 2017 category for developing HIRAM.
"By using open street map WPM enabled us to create a useful, accurate and affordable tool. HIRAM has already enabled South Gloucestershire and Bristol City Councils to access £3.4million in extra resilience funding."
— Jon Munslow – Asset and Infrastructure Group Manager (and HIRAM lead sponsor) – South Gloucestershire Council