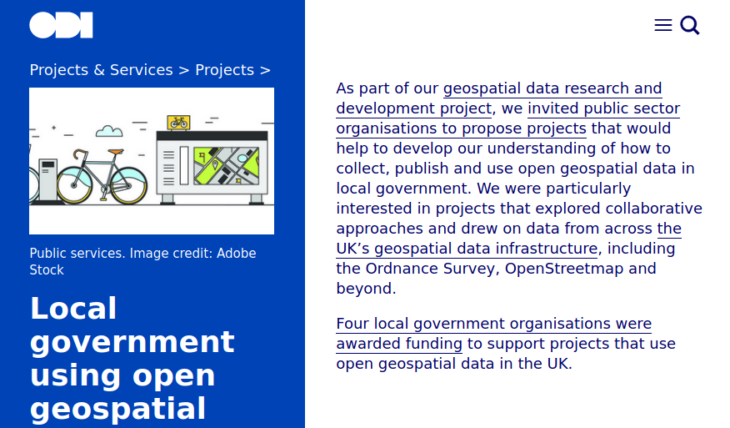 Local governments using open geospatial data to make a difference
In 2019 as part of a geospatial data research and development project, the Open Data Institute (ODI) invited public sector organisations to propose projects that collect, publish and use open geospatial data in local government. The ODI were particularly interested in projects that explored collaborative approaches and drew on data from across the UK's geospatial data infrastructure, including OpenStreetmap.
Four local government organisations were awarded funding to support projects that use open geospatial data in the UK. They make for a great set of OpenStreetMap case studies. The projects were:
How Falkirk used maps to address poverty and inequality
How Bath used mapping data to solve community problems
How Oxfordshire County Council used maps to improve cycle routes
Mapping people's experiences of moving around Stockport
How Buckinghamshire County Council scaled the Cycle Infrastructure Evaluation tool to its local area
You can read more about these projects and how they utilised OpenStreetMap over on the ODI website. We particularly like that one of the outputs that will be of value to many readers is a guide for local authorities and other data owners who want to work with OpenStreetMap.
Download the guide: Providing data to OpenStreetMap: a guide for local authorities and other data owners [PDF].