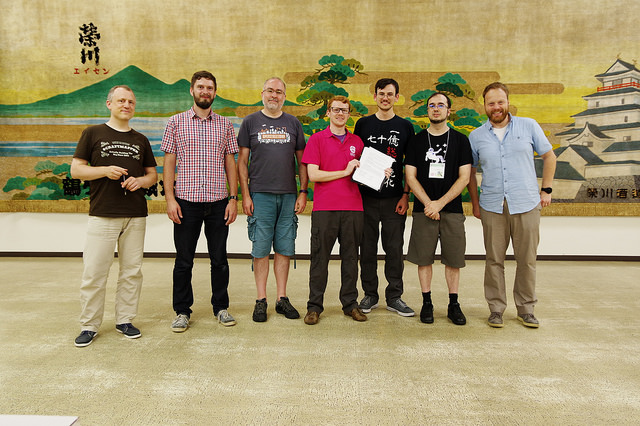 Why our Local Chapter status matters
In August 2017 three of our Directors (Gregory, Jon and Rob) attended the annual OpenStreetMap conference, State of the Map. The event – which was hosted in Aizuwakamatsu, Japan – provided the perfect opportunity to sign our Local Chapters Agreement with the OpenStreetMap Foundation (OSMF).
The OSMF is an international not-for-profit organization "supporting, but not controlling", the OpenStreetMap project. Like us, it is dedicated to encouraging the growth, development and distribution of free geospatial data and to providing geospatial data for anyone to use and share. It does this by hosting the annual conference and acting as legal custodian for the OpenStreetMap servers, website, core services and trademarks. Although the OSMF is also a non-profit company registered in the UK, it's focus has shifted to the international forum – and rightly so!
As a Local Chapter of the OSMF we are officially recognised as the entity that represents the interests of the local community in our region (the United Kingdom, including the Isle of Man and Channel Islands). The agreement gives us the right to use the OpenStreetMap name and logo and is an indication of the OSMF's confidence in us. It also enables us to take a seat on the OSMF Advisory Board, a group with representatives from large businesses and other Local Chapters. In short, it frees us up to do our job, whilst allowing the OSMF to focus on it's role within the international forum.
We are delighted to be a Local Chapter and we will strive to be a leading player within the OpenStreetMap project.
Image CC-BY-SA 剛広 渡邉 – L to R: Frederik and Ilya (OSMF), Jon, Rob and Gregory (OSMUK), Paul and Martijn (OSMF).