As a not for profit community interest company, OpenStreetMap United Kingdom C.I.C undertakes activities which benefit the community in our region (the United Kingdom, including Northern Ireland, the Isle of Man and Channel Islands). We became a Local Chapter of the OpenStreetMap Foundation (OSMF) in 2017 – an indication of the OSMF's confidence in us.
We are delighted to be able to support our community and we will strive to be a leading player within the OpenStreetMap project.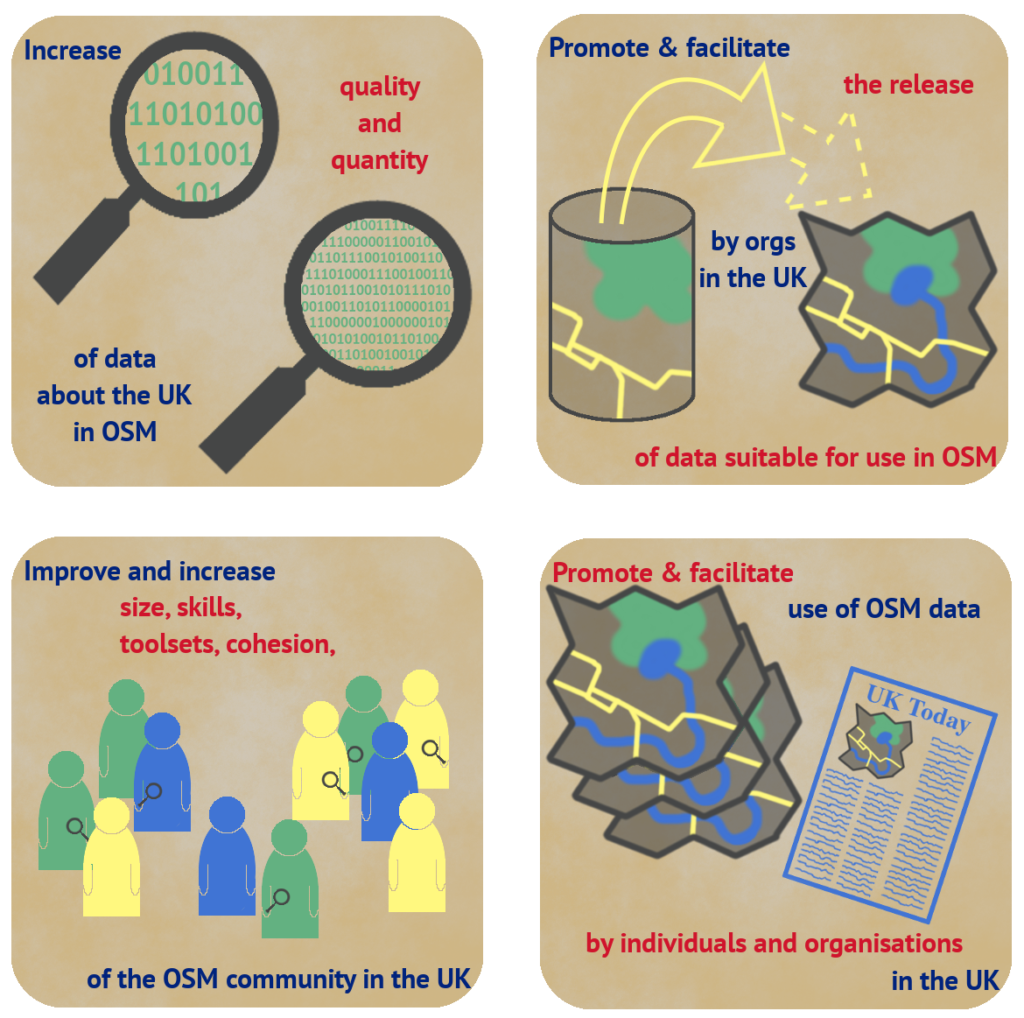 With specific focus on the United Kingdom of Great Britain and Northern Ireland plus Crown Territories we aim to:

Increase the quality and quantity of data about the UK in OpenStreetMap
Improve and increase the size, skills, toolsets and cohesion of the OpenStreetMap community in the United Kingdom
Promote and facilitate the use of OpenStreetMap data by individuals and organisations in the United Kingdom
Promote and facilitate the release by organisations in the United Kingdom of data that is suitable for use in OpenStreetMap
2018-19 Strategy
Having built the basic organisation in Year 1 (2017-18), Year 2 (2018-19) concentrates on promoting OSMUK at every suitable opportunity and to every suitable target audience.
We are still a very young organisation and it was difficult to set hard targets.
In 2018-19, amongst other things, we will:

Promote Quarterly Projects outside of OSM channels
Run a meetup event (aligned with an ODI node or similar existing group)
Focus on developers and website builders as the main groups. Additional focus groups to be aligned with Quarterly Projects.
Get the Talent Directory set up so that we are ready to link people to projects if requested
Improve the website, focusing on helping people navigate existing content, rather than new content creation
Develop a list of projects that are of academic interest