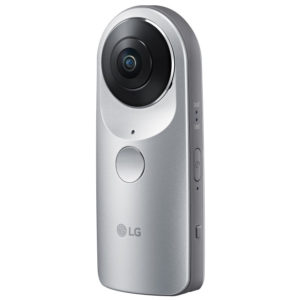 360 degree cameras are a great way to collect photos to help add data to OpenStreetMap. We have purchased an LG 360 camera that is available to rent to OSM UK members living within the UK, Isle of Man, or Channel Islands (become a member).
Rental details
Rental is for a period of 3 weekends and costs £11.10. This should give you plenty of time to get out and about with the camera over the weekends or on the weekdays in-between. The charge is made up of delivery and return delivery (£6.90) and fee (£4.20) that goes towards covering the cost of this scheme.
We include a monopole and memory card with the camera. To upload your photos to a service such as Mapillary (for later use in OpenStreetMap) you will need also need a computer.
Instructions (PDF; ODT) are included to guide you through the process.
Arranging a rental
To arrange a rental, review the calendar below for a suitable period and contact rob@osmuk.org with the date and your OSM UK membership details (name and address). Once confirmed you will be directed to the payment site.
LG 360 availability:
Terms of rental
For company Members use only. For OSM activities only. No personal use.
Handheld use only. No mounting to vehicles.
Not to be used during rain/precipitation, below 0°C or above 35°C, or during high wind.
For loss or damage we request that you contribute £50 as a minimum with more on a voluntary basis.
The cost of return delivery is included in the rental fee.
Late returns will incur a fee of £6.00. Increasing by an additional £6 per week (they also cause an inconvenience for the next hirer).
On receipt please check that you have all the parts: LG 360 Camera, Cap (squeeze the buttons to slide this off), USB Cable, Micro SD card (inside the camera), Monopole, lens cleaning cloth and return delivery sticker/stamps.